Hungary is an excellent destination no matter what time of year you plan to travel. This country's rich heritage, interesting language, surprising food and wine offerings, and long history contribute to its attractiveness for travellers who want a unique experience.
While Budapest is the most popular destination in Hungary, towns, villages, and natural landscapes await those willing to adventure outside the city. A visit to Hungary allows a unique combination of rich cultural experience with medical, health or wellness treatments. Relaxing in warm water, rich in curative minerals in beautiful surroundings and with the prospect of massage, mud treatments and many other sorts of special treatment, is a rare luxury that you can easily afford here in Hungary!
With more than 1,000 hot springs gurgling beneath 80% of the country, a trip to Hungary isn't complete without one thing: a visit to a spa.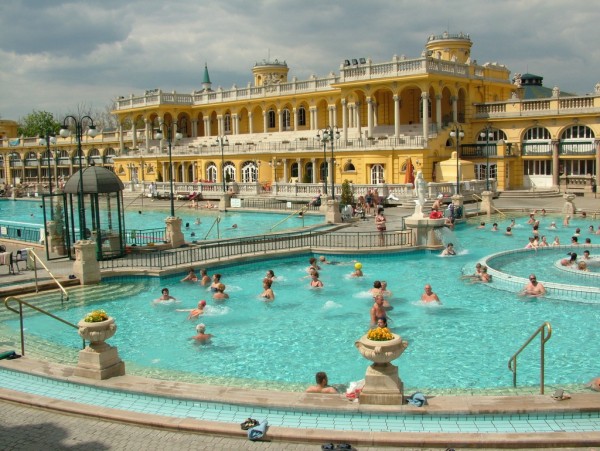 The Romans chanced upon Hungary's healing waters more than 2,000 years ago, but the Ottoman Turks really got things going in the 16th century, importing their social spa culture. The Turks added their own beautiful Turkish Baths, some of which are still in use today. While the word "spa" can conjure images of being pampered in a luxurious setting, in Hungary it's quite different.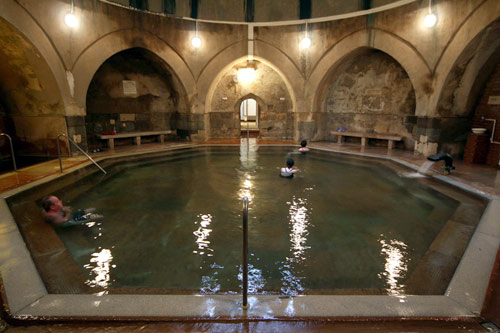 The key to Hungary's thermal culture is its location on the Carpathian Basin. The earth's crust is very thin here, allowing water to rise easily to the surface. Since ancient times, and all though the History of Hungary, the hot water bubbling up all across this region has been put to good use for its beneficial effects. Spas are located in big cities and smaller towns throughout the whole country.
Some are simple thermal baths serving the local community, others are larger commercial baths. All the major spas and baths in the country offer thermal pools, leisure pools and some kind of family fun areas (kids' pools or slides of all lengths and shapes) and some count themselves as Aqua parks, (though they all feature thermal water pools).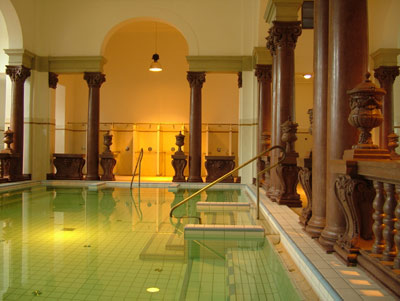 Budapest holds the title "City of Spas" since the year 1934, as it has more thermal and medicinal water springs than any other capital city in the world. There are 118 springs in Budapest, providing over 70 million litres of thermal water a day. The temperature of the waters is between 21 and 78 Celsius.
There are 15 public thermal baths in Budapest, not counting the private thermal spas established in some luxury hotels, such as the Ramada Plaza, Thermal Hotel Margitsziget and the Corinthia Royal, which have their own spas. The spa at the Hotel Gellert is a public bath. Some of the baths arrange special programs. The Rudas Bath, built in the 1500-s, gives home to regular night parties on Friday and Saturday nights, with great music and special light effects. Some Spas in Budapest are housed in beautiful old buildings in Classical or Turkish style dating back anything from 100 to 400 years have become famous as tourist attractions in their own right.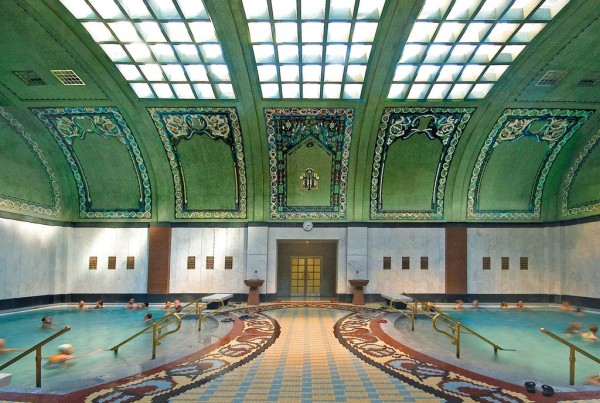 The biggest indoor water theme park in Central Europe is located in the outskirts of Budapest, while the largest spa complex is located in Hajdúszoboszló.
Another larger-than-life phenomenon is Lake Hévíz, a real natural phenomenon with an average yearly average water temperature of 25 °C (77 °F). This is the largest biologically active thermal lake in Europe. Tourists also enjoy the phenomenon of swimming in a huge, warm lake, even on the coldest winter day!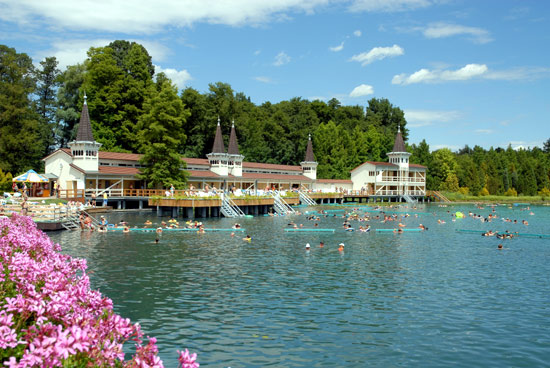 One of Hungary's most unusual spas is the open-air complex at Egerszalok, about 80 miles (129 kilometres) east of Budapest It's obvious why they've nicknamed it Salt Hill: centuries of mineral deposits left by flowing springs have turned the surrounding mounds white. Visitors can take a dip in these hot springs or use the 17 indoor and outdoor pools at the adjoining Saliris Resort. Just five miles away is the incredibly pretty town of Eger, which has a 16th-century Turkish bath and outdoor thermal pools.
On offer is the heavy-handed pummelling of the Turkish massage experience, or a chance to relax and gaze at the ornate interior of bright mosaics. The outdoor pools are more boisterous, with plenty of play areas for kids Hungarian spa hotels also offer cosmetic and beauty treatments of the highest quality, combining the beneficial effects of healing thermal water, professional know-how and the latest treatment trends.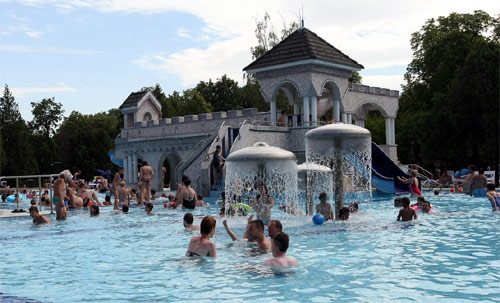 There are also successful Hungarian beauty products and treatments, which are based on natural active ingredients (mineral-rich thermal waters and mud). Relaxing in Hungary's Thermal water relieves stress and anxiety and accelerates the body's own healing processes. Due to their chemical and biological structure, medicinal waters are: proven to remedy locomotive disorders beneficial for countering gynecological diseases, infertility and chronic skin problems an effective part of the rehabilitation process following sporting injuries.
Unique Hungarian methods have been developed to make maximum use of the waters. Hydrotherapy makes use of the physical qualities of water, such as buoyancy, resistance and temperature. Weight baths for treating spinal conditions, are perhaps the best-known example.
Balneotherapy is the technical name for the thermal water treatments that make more use of the chemical qualities of the water, which is rich in minerals but free of nitrates, nitrites and bacterial growth.
Mofetta (a sort of dry bath employing carbon dioxide bubbles) is one example of this. Medicinal and rehabilitative tourism (based on thermal water, medical caves, medical resorts, balneotherapeutical treatments and special Hungarian methods) attracts more and more patients. Hungary, the ultimate destination for combining healing, relaxation and adventure.